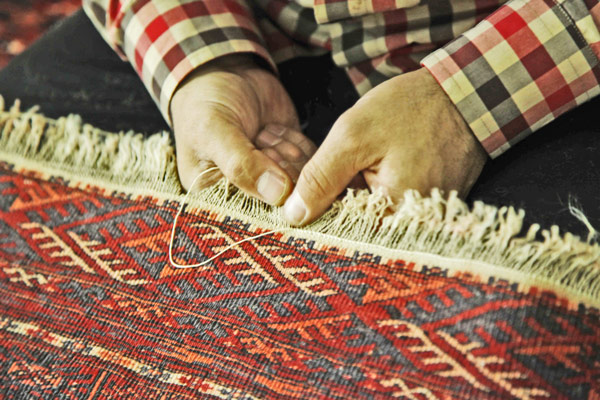 Persian rugs are amazing, when it comes to long time persistence and surviving generations under different conditions.
Nevertheless, even an Oriental carpet has his vulnerabilities like the fringes or the lateral linking. Other reasons for damage may be uneven wear or sharp object.
Our repairing services for your Oriental rug
No matter what (disaster) has happened to your carpet, with our experience and professionalism we are the competent contact matching your needs. Our repair service treats damaged carpets with original materials and in traditional ways.
The costs for fringe repairs or replacements of the lateral links can be seen below:
- Fringe repair: £53 per lineal meter
- Renewal of the lateral links: £38 per lineal meter
In case other repairs are needed, for example after moth infestation or if you are dealing with holes, please send us a picture of the damaged area. You will receive an immediate, non-binding price quotation.
Pick up and return
Our shipping partners DHL or UPS will pick up the carpet, after you have placed the order. Once your carpet is successfully repaired, it will be sent back to your home address. Our repair service is available throughout Europe.
Unser Reparaturservice kann in ganz Europa in Anspruch genommen werden.
If you are in need of a carpet repair, you can reach us under the contact details displayed below:
Contact