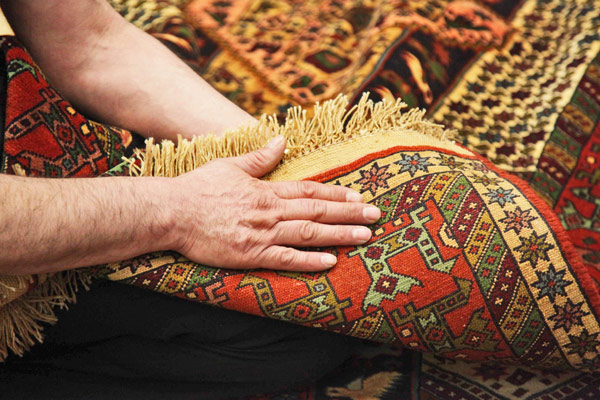 As history has shown, a real oriental carpet can be up to 3000 years old. He doesn't even need special treatment for that. With even use, the excess wool is loosened, the remaining wool is polished, the colors become more subdued and the pattern becomes even clearer and richer in contrast.
A good vacuum cleaner is a real oriental carpet's best friend
An oriental rug should be vacuumed in the direction of the pile once a week if possible. You can easily determine the direction of the pile by running your hand over the carpet. If the pile feels soft while doing this, that is the direction of the pile. In addition, a carpet appears lighter and more flowing in the direction of the pile, and darker and more contrasting towards the direction of the pile.
Professional carpet cleaning
For domestic use, a carpet should be professionally washed every 7-10 years. Fine house dust settles in the carpet foundation and thus accelerates the wear of the carpet, like emery paper.
When washing, the carpet is first shaken to remove sand, stones, etc. Then it is washed with water and special non-fat-soluble detergent. Finally, the liquid is squeezed out of the carpet and it is hung in a drying room. Such cleaning gives the pile elasticity and new shine and the colors shine brighter again.
Stain removal from an oriental rug
In a real oriental carpet, the lanolin, which is part of the high-quality sheep's wool, prevents dirt from remaining.
If you happen to have the misfortune of accidentally spilling something on the carpet, you should remove the stains as soon as possible.